The field is covered with about 6 inches of snow that has some crunch to it, falling very wet and now freezing up. It's not enough to groom, but you can make your own tracks or follow others' tracks for a chance to get out. Winds will still be pretty strong today. 
The trails in the woods are not great - lots of water hazards because the ground isn't yet frozen, and many branches, downed trees, and birches draped over the trail. We'll make a plan for clean up this week as we see what springs back up and what needs to be cut. 
The snowshoe trails will likely have a similar amount down.  Stay tuned for an update, but we will likely need help on trail clearing. 
Bruce.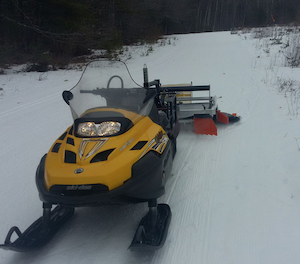 Topic