Thanks to two members of the EL ski team, the field is now groomed for both skate and classic.  Yes, there's a little grass here and there, and it's more lumpy bumpy than it will be with more snow, but it's fun in its own way.
We do need some help with trail work this week.  Wherever you head out, please avoid walking on the groomed sections in the upper and lower fields.
Snowshoe trails can be walked with loppers, tossing and cutting downed branches.
Ski trails can be walked, liberating the tops of the bent over birches (BOBs) from the frozen snow, so they can spring back up straight as the weather warms later this week.  We're working to get a group of the EL skiers out on the trails as a fundraiser for their team - for every hour worked, we donate $10 to the team to use for wax and equipment.  If you'd be willing to sponsor a few hours, let me know and I'll figure out how to coordinate.
Please remember new COVID rules - mask in the parking lot please, stash once you're skiing, avoid gathering on the trails.
Half a dozen cars have already come this morning - see you out there.
Bruce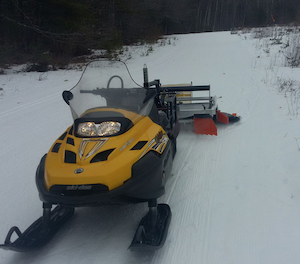 Topic